03—PR/GUERILLA


Legalize Lemonade





↳ OLV




2018's Country Time's Legal Ade campaign raised awareness about how kids were getting busted for their lemonade stands because of outdated, arcane laws. But, in 2019, there where still plenty of states that had these old, arcane laws, on the book—making lemonade illegal if sold at a lemonade stand.

So, in order to change these absurd laws, Country Time set up a juxtaposition that lemonade, a traditional, innocent product, was in fact illegal (if sold at a lemonade stand). And just like the widespread legalization of marijuana, the brand demanded lemonade be legalized in all 50 states.




---
OOH + In-Store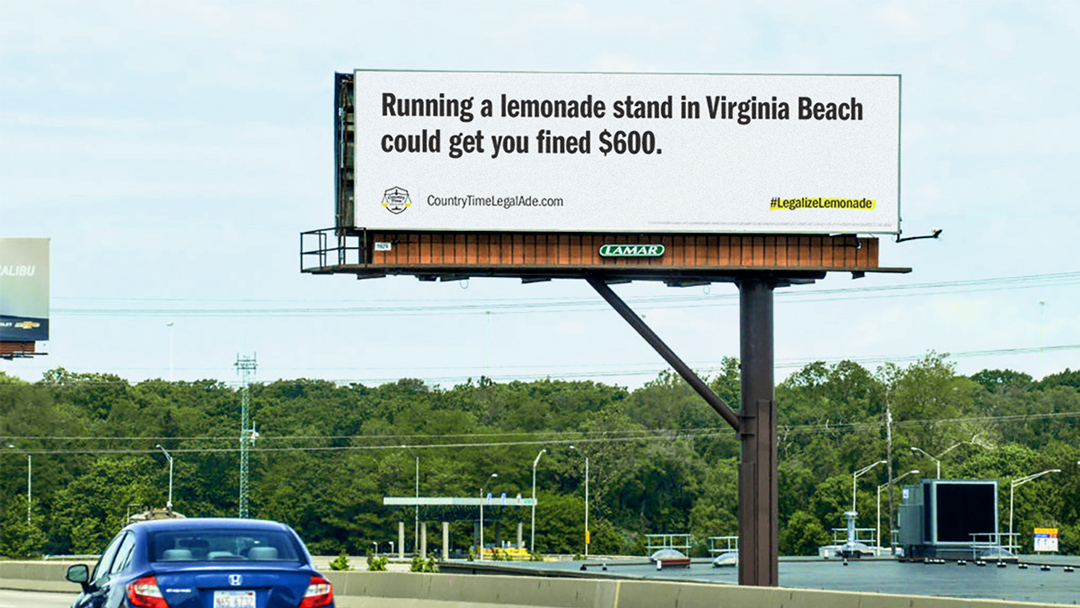 ↳ OOH




We used out-of-Home, in-store, a web film, and other methods to raise awareness, and urge people to contact their local politicians to change laws in their states. Even went as far as using programmatic out-of-home and place-based media, to spread the message in states where operating lemonade stands is still illegal.


Programmatic ads:
↳ Boise
↳ Milwaukee
↳ Atlanta
↳ Philadelphia



↳ Virginia Beach
↳ Newark
↳ New Heaven
↳ Phoenix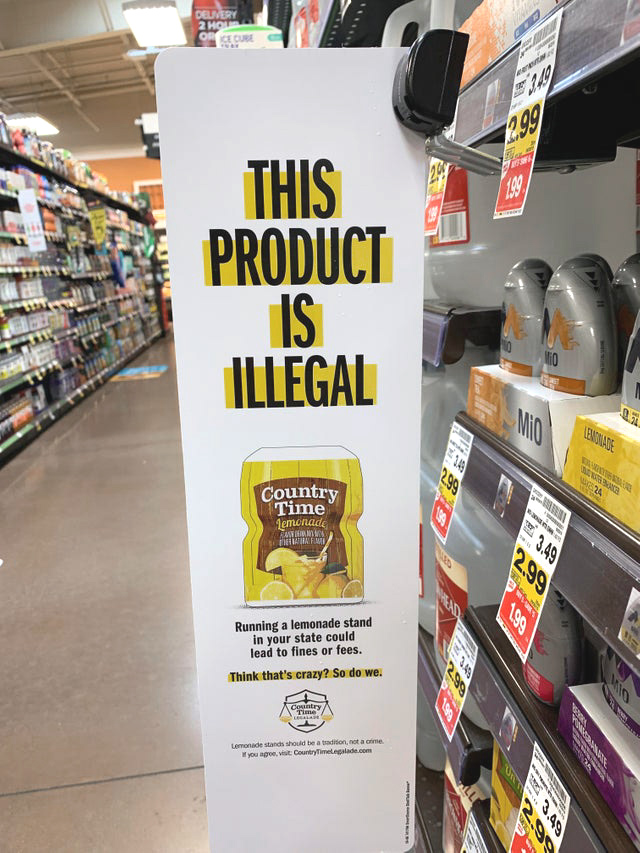 ↳ In-Store




---
Website
We even launched a site—
countrytimelegalade.com—
where people could find the tools to start changing their state's lemonade permit laws. Here people could learn if lemonade stands where legal in their state without a permit.
And if they weren't, we helped them start the process by giving them the information to contact their local state representative and providing a downloadable Legal-Ade support yard sign and stencil.


↳ Desktop




---
Results

The idea quickly sparked up a conversation around lemonade laws and was soon mentioned in local and national media outlets. Resulting in almost 400,000,000 media impressions. It was even the trending post on Reddit, racking up over 68,000 upvotes with 92% positivity.

As the campaign went on, politicians got involved and introduced bills to Legalize Lemonade. Texas declared Lemonade Freedom Day, finally legalizing lemonade. And Tennessee changed its laws, making lemonade stands legal.
Law changed:
↳ Texas
↳ Tennessee


Law changes In the works:
↳ Pennsylvania
↳ Minnesota
↳ New Jersey
---
Credits

Client
↳ Country Time

Agency
↳ Leo Burnett
Role
↳ Senior Art Director
Year
↳ 2019
---